Football has changed.
There is a temptation to think of the beautiful game in purely abstract and nebulous terms. Something that can be neither defined nor controlled. The whistle blows and we are immediately engulfed by the drama and apparent randomness of it all, entirely ignorant of the patterns and trends emerging in front of our eyes.
However, these patterns, if understood, can have profound implications both during and after the game. One need only watch the Brad Pitt movie, Moneyball, to see the sporting and commercial consequences of seeing past the drama and into the science.
Nowadays, there is more of this data and information available than ever before and software solutions like Hudl can provide game-changing insight for teams seeking that competitive edge.
From broadcasters, VAR, goal-line technology and the individual cameras set up by sports analysts, there is a dizzying array of video feeds that offer huge strategic and tactical value. There is just one problem, and it's a big one…
Many of the feeds are coming from traditional coaxial cables and other disparate sources, so in many games, only a very small proportion of the potential data and footage ever gets into the hands of those who need it.

That's where Antrica comes in.
By converting these traditional feeds into IP, Antrica can ensure that the full potential value of Hudl Sportscode is realised, and the analysts, coaches, and managers are fully equipped to make the smartest possible decisions.
Here are some of the ways this footage and data is being used to help football teams today, along with a couple of ideas for how it might be able to be used in the future.

1. Tactics based on hard data, not popular trends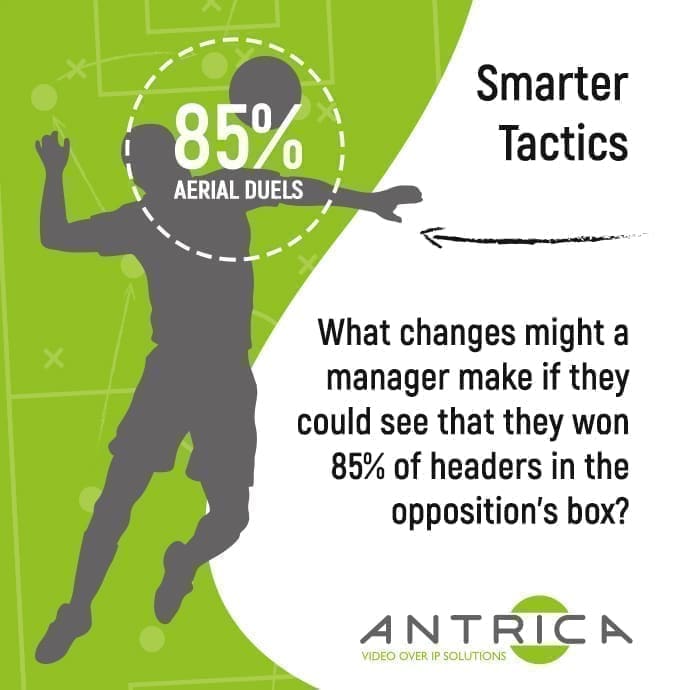 Although teams are trying to move to a possession-based, 'tika-taka' approach, data analysts might cause attitudes to change again. If, for instance, your data analysts are able to review ten matches worth of footage, and calculate that 85% of the time your team wins headers in the opposition box, it's probably worth adjusting your play accordingly, even if that goes against the current trends.

2. Removing emotion from selection
Clubs always seem to have that one player that is always popular but never performs. Perhaps he rejected a rival, or is a boyhood fan? Either way, more often than not, these players can cost teams in big moments. Thanks to data analytics, clubs might be able to justify moving these players on quickly – even at reduced values – and still pacify their fans. Sold the fan favourite striker in January? Expected Goal analytics says he should have scored 3 times as more by now. Moving on the fan favourite winger? His crossing ratio is one of the worst in the league. Of course, it works the other way – if a player is going through a purple patch, and his value is rising, it might be worth cashing in if the historic data analysis suggests this is very much a 'one-season wonder.'

3. A Training Revolution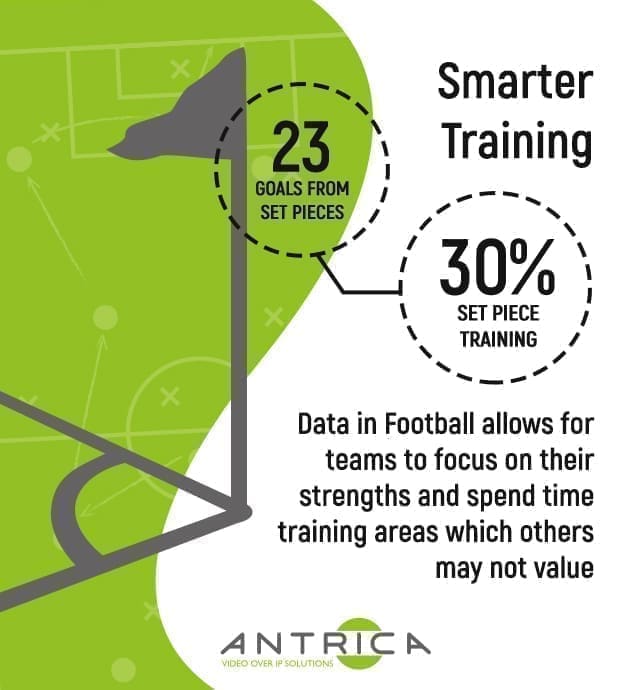 Data-driven performance has already led to one major shock worldwide – the little known Midtjylland stunned the DanishLeague in 2015 by taking a ragtag band to the Danish Superliga title. Matt Behnam, owner of the club placed his faith in data analytics to do this, particularly by exploiting his team's prowess at set-pieces. Where other clubs would train 5% of their time on these, Benham let his data analysts control the training schedule and focus 30% of the time on corners, free kicks, and long throws. It worked: Midtjylland scored 23 goals out of 64 from set-pieces and won the League for the first time. Benham invested more in big data and The Wolves repaid his faith, winning the league again in 2018 and the Danish Cup in 2019. None of this could have been achieved without Benham's relentless focus on making gains through data insight.

4. Solving the Transfer Puzzle
Every team is searching to uncover the next N'Golo Kante, Teemu Pukki or Jamie Vardy. But sometimes even scouts get it wrong and all too often, player purchases are made without a focus on historic data. Using modern data analytics platforms like Sportscode, scouts can now review performance over time, not just measuring goals, assists and clean sheets, but focusing on other key stats such as tackles, key passes, crossing ratio, etc. That way, scouts can be far more assured in their decision-making process.
5. Instant Matchday Insight
With the availability of cameras and instant replays from every angle inside stadiums and training zones, it is now much easier for data analysts and sports scientists to offer immediate advice. Until now, their roles have primarily focused on post match analysis and training, but with data moving faster than ever they are likely to become a far more important component of the actual matchday squad. Data analysts can review footage of players in-game to work out patterns of attack and defence, and relay these ideas to coaches who can then make actionable changes. It's all about spotting patterns – if a player on the wing always cuts inside, data analysts who identify the key feet movement or change in direction or change can then provide advice for defenders on how to stop that attacking player.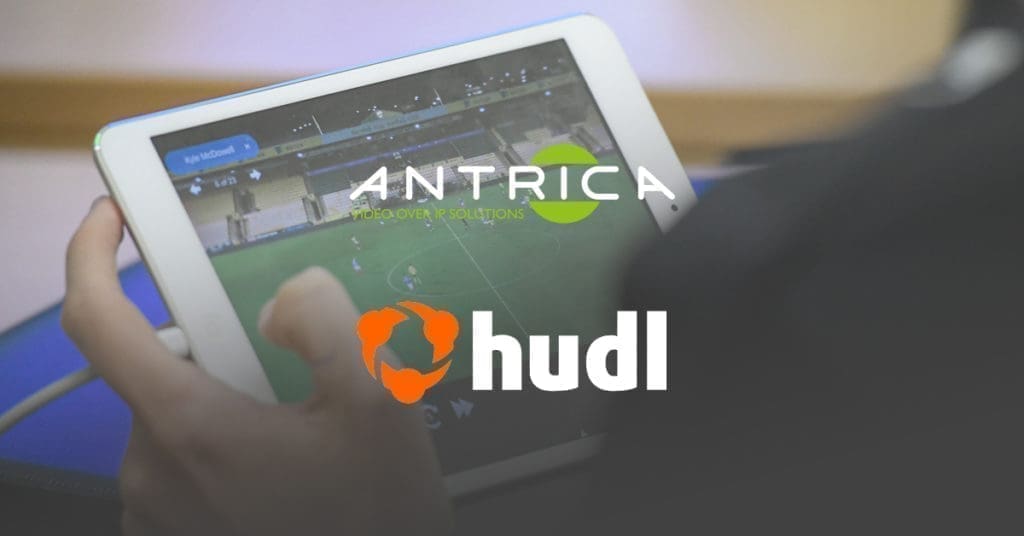 6. Helping New Talent Break Through
One of the real drives behind a focus in data analytics for teams is the desire to bring more their own talent through. With Hudl's analytics platform opening up more ways than before to track the training of academy and youth players and analyse their performances, teams now should have a greater chance of seeing their own breakthrough.
A prime example of this is Burnley FC. Their new Barnfield Training Centre opened in 2017, had full compatibility with Hudl's solutions, and was designed to propel young stars into the Claret's first team. Using Hudl analytics, they were able to unlock a new way of developing their stars. One such star, Dwight McNeil, went on to become a regular in the 2017/2018 campaign. Although it is obviously a long way off at the moment, there is a possibility that eventually one team could create the perfect regime of physical and mental training, match analysis, diet and general exercise to create the ideal poacher, or the perfect wing-back. Of course, some element of this would come down to 'natural talent' and would require hard work on the players part to push it through, but a pathway forged by analytics like Hudl might give a youngster the best chance to break through one of the toughest career ceilings and cement themselves as a first-team regular.
Making Sport Smarter:
It will be many years before we understand the full potential of sports data analysis, but one thing's for sure, the trend is only moving in one direction, and it'll be those clubs that make full use of the ever-expanding range of video and audio kit around their grounds that find themselves with a significant strategic edge. At Antrica, we're excited about playing our part in ensuring that every bit of that data is made available to the people who need it.
You can find out more about the Antrica & Hudl partnership here – https://antrica.com/partners/hudl/